Home
Amateur Radio
Scenarios
Audio Downloads
Audio Players
Video Vault
The R.I.S.
R.I.S. In Action
Dirty Tricks
Licensed Lawbreakers
Unwritten Rules
Squeaky Clean?
AROS
Court Cases
Amateurs In Court
Pirates In Court
CB Court Cases
Other Court Cases
International Cases
Spot The Loony
Pirate Radio/UBR
Repeater Bomb
Laughing Boxes
Repeater Jammer
Timers
Toneburst
CTCSS Tones
Russian Jammers
RSGB Limited
Presscuttings
LPWS Magazines
Sing Along
History Of Swearing
LPWS FAQ
Construction
Terms Of Use
555 Timer Circuits
All these circuits use the versatile 555 timer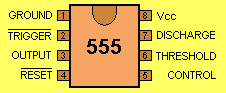 Any device needs to be triggered by a timer. There are a few suggestions .

Our first really successful device, Tony Tone-burst (named by the repeater users, not us), it consisted of a battery, a transmitter, a 1750KHz tone burst board and 2 simple 555 timers.

Why 2 timers? You need 2 specific timing intervals, one for the interval between transmissions, and one for the interval of transmission, later, greater experience gained from making these devices reduced the component count considerably.

Tony Tone-burst sent out a 500 millisecond burst of tone every 28 seconds, this would open the repeater, and just as it was about to time-out, and it was sending it's Morse ID, the device would send another tone burst and reset the repeater's time out timer.

This was made before we came across the circuit for our own tone-burst that has a built-in duration timer, if a similar device is made now, only the one timer is needed, the one to set the tone-burst interval, as the duration of the tone is pre-set to 500ms.

Actually, it did nothing to jam or prevent use of the repeater, but as radio amateurs are not fully paid up in the brain department, they would not use it or speak to anyone! In fact several people genuinely believed it was manually operated and that someone was actually sitting and pressing their tone-burst button every 35 seconds or so, and we were accused of paying someone to do it. As they say, the pictures are better on radio!

Later modifications to Tony Tone-burst were a small "laughing module" from a greeting card, and an increase in the transmit time to 1 second. This gave the following effect, tone bust > repeater opens > brief trademark laugh > silence………..timeout starts > repeater Morse ID > tone burst again > and so on.

For a more standard device we have found that a transmit period of no more than 30 seconds provided the required amount of annoyance without transmitting long enough to be tracked down.

A maximum of 3 transmissions per hour will keep them guessing as to the location, but we suggest only 2 per hour. A simple way to achieve this is to use a small quartz clock mechanism, these are only a few pounds and there are many ways to trigger the transmit timer with one.

A really simple way to trigger the device is to find the works from a chiming quartz clock, these have two wires coming from them that are attached to a pair of contacts that "make" once per hour, throw away the hands and use these wires to trigger the transmit timer.

Don't be too over enthusiastic with transmit periods and the number of transmissions, many of our newer constructors have suffered the loss of expensive equipment this way as the "sensible" radio hams will DF the unit and steal it given half a chance!

A really good ruse is to construct two identical devices and have them set to trigger alternately from different locations, prolonged use of this example showed that they just confused anyone trying to locate them.
---
These two simple timers can be constructed without a pcb if required, just solder the components onto the chip, this saves space in a confined area. Both designs are tried and tested and based on the common 555 timer chip, where power consumption is a factor, substitute the standard 555 timer with the µ555 version, but take care as these are very delicate with regard to static electricity.

We hope the circuits are self explanatory! All resistors are ¼ Watt, take care with polarity, the "idiot" diode can be omitted if you want.
Timer One
This timer is the standard design used by us for over 10 years, the original is till working! It provides the power for your device via the normally open contacts of a sub miniature relay, test have shown that reed switches, although drawing less current, are not nearly so reliable in service. The input "pulse" wanted is a momentary make contact, this starts the timer cycle. Various things can be used for this, but bear in mind that some devices, although they work well in test conditions, do not function when in the close proximity of a transmitter. Our most successful devices have used one or more chiming quartz clock mechanisms. These are available for a few Pounds, and have a pair of wires that make momentary contact once per hour. Throw the hands away and just use the bare mechanism or 2 for twice an hour operation. Crude we admit, but in the field they work better and more reliably than other designs or more technical merit!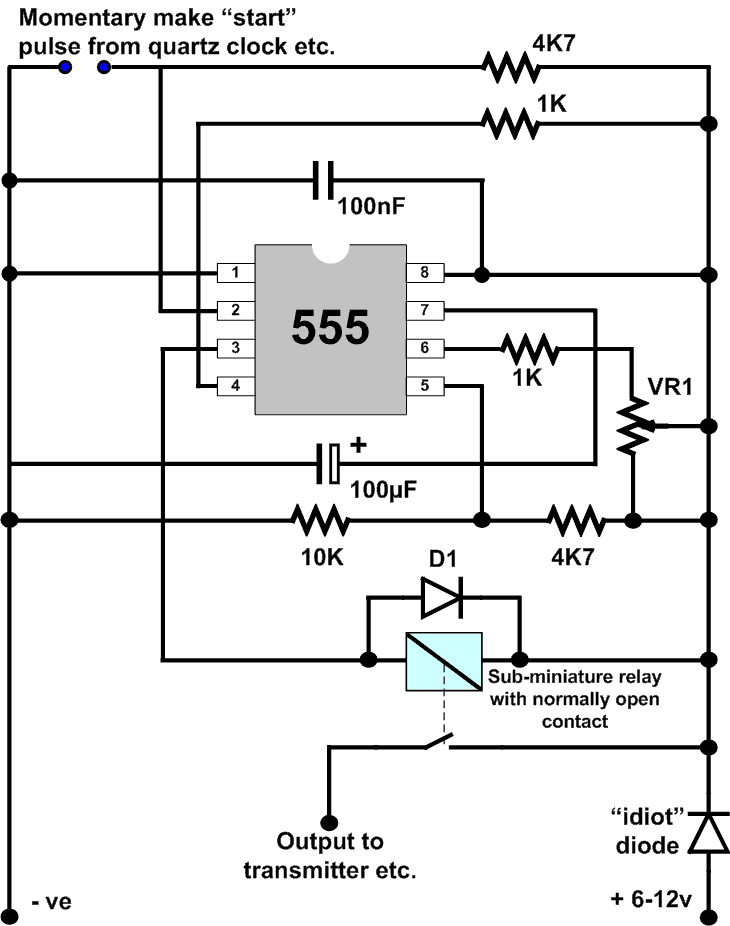 VR1 should be around 1MΩ - 2MΩ to give an on time of around 20 - 30 seconds only, this may not seem a lot, but take our advice, any longer and they will almost be able to DF the unit and steal it! You may need to experiment with the value to get your required "on" time.
Timer 2
This is from the very first successful device made by the LPWS, and nicknamed "Tony Tone Burst". This device utilised the repeater's characteristics to keep it open as the close-down Morse ID was being given. On the face of it, nothing much really, but radio amateurs being what they are, find this monumentally annoying, this stops them from using it as effectively as a 100 Watt carrier, take our word for it. This timer needs to be coupled to a transmitter with a automatic tone burst and the timer pulse adjusted to coincide with the repeater's closedown, usually around 30 seconds of non activity. The tone burst then resets the repeater timer and the cycle repeats. We know it sounds too simple to be effective, but remember we are dealing with simple souls, IT REALLY DOES WORK!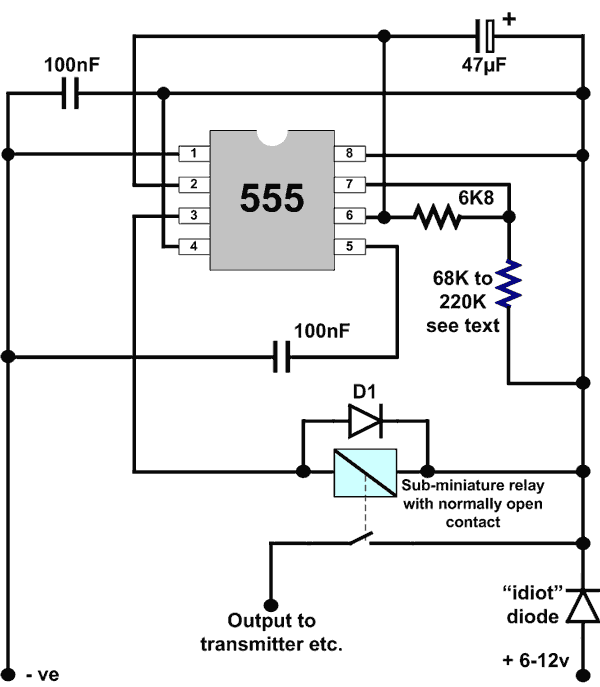 The blue resistor is the timing period controller and the one to change to suit your target repeater, ours has a hard wired resistor, but obviously a variable resistor can be substituted.
Notes
Diode D1 in both circuits, as well as the "idiot" diode are standard diodes you find lying around, if you want a part number, try using 1N914, 1N4148, or similar

Theoretically, the 555 can supply the current for a low power device without a relay, but remember we are dealing with RF in close proximity, and in practice this does not work as the timer needs to be insulated from RF feedback. Consequently, a relay must be used.

The idiot diode is there merely to prevent damage from reverse polarity, not a bad idea if you are making a sealed package, it will protect your circuit during use and testing and any accidental reverse polarity when changing the battery pack.

Testing can be done easily with a simple led and resistor such as this:-

We suggest the complete and tested circuit is fitted with wire "tails" for connection and sealed with self amalgamating rubber tape, or silicone sealant, to prevent the ingress of moisture etc.

Here is a block diagram of the component parts of a Repeater Bug, for ease of construction we always power the sound source and clock timer separately from 1.5 volt cells soldered in place, in practice these batteries last in excess of 12 months.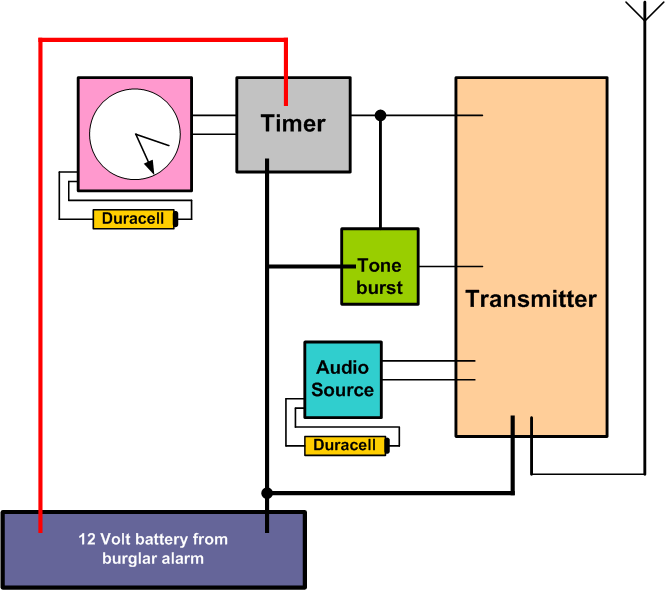 From the relay in the timer module, one "hot" wire is required to power both the tone burst and the transmitter, if a more complex audio source is used, extend the wire to activate this as well.

In the old days we had to use an auto-reverse Walkman unit with a C60 cassette in it, until the tape broke! Luckily, now we have innumerable sources of digital sound recorders and audio modules available for a few pounds, like the birthday card laughing module that is ideal.