Home
Amateur Radio
Scenarios
Audio Downloads
Audio Players
Video Vault
The R.I.S.
R.I.S. In Action
Dirty Tricks
Licensed Lawbreakers
Unwritten Rules
Squeaky Clean?
AROS
Court Cases
Amateurs In Court
Pirates In Court
CB Court Cases
Other Court Cases
International Cases
Spot The Loony
Pirate Radio/UBR
Repeater Bomb
Laughing Boxes
Repeater Jammer
Timers
Toneburst
CTCSS Tones
Russian Jammers
RSGB Limited
Presscuttings
LPWS Magazines
Sing Along
History Of Swearing
LPWS FAQ
Construction
Terms Of Use
Construction Projects
Build a Repeater Bug/Repeater Jammer!
Build your own repeater bug, or repeater jammer, with our help and advice!
Find your target repeater with the Grid Reference HERE
You can target your own local repeater, or make a device with variable frequencies that you can use on your travels, now that prices of hand held transceivers are falling, especially second hand ones.
Not a great deal of practical knowledge of electronics is required to construct a device, but you will need the basic skills of soldering and drilling etc. Don't be too ambitious at first though, our advice is to keep it simple.
We have made 2 distinct types of device, the simple ones, such as "Tony Toneburst", and the more advanced ones with music, messages, and digital speech.
Equipment / Transmitters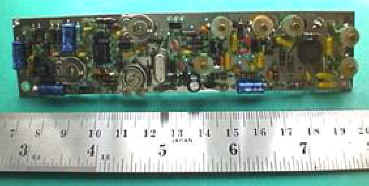 The Wood & Douglas 144FM2T3 transmitter board. As you can see, it is quite small, but compared with some of today's transmitter boards with surface mounted components, it is huge!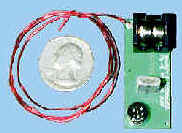 This is the Ramsey Electronics FM6, it is TINY and ours transmits 30 miles and accesses a repeater on a ¼ wave length of wire just as shown! The picture shows the top of the board, the components are surface mounted beneath. Shown in this picture are the battery (top), a standard crystal (centre) and a microphone (bottom left). A good feature is that this transmitter works with a mere 6 Volts.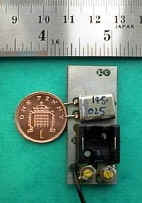 Here is another variation of the FM6, this one was produced by Xandi Electronics in the States, but sadly they have gone out of business leaving us with only 3 of these wonderful transmitters. As you can see, this one is crystalled for 145.025MHz, and has given sterling service in the past. We had to remove it from a device to take this picture.
This is the smallest crystal controlled transmitter we have found, and by far the best. This one worked well in tests, although its use has been limited to a radio rally "talk in" frequency. Fitted inside a packet of 20 cigarettes with a laughing module and 4 AA batteries, it was carried around inside a radio rally by an unsuspecting person while we monitored the effect from outside. It is rock solid on frequency, and powerful for its size. For the test we used a loosely coiled ¼ wave wire inside the cigarette pack. It completely obliterated all signals due to its close proximity. This picture shows it before the crystal was changed, and the microphone replaced with a sound module.
To convert any of these type of crystal controlled transmitters for repeater bug use, the crystal needs to be replaced. New crystals are available from :-

QuartsLab Marketing Ltd.
PO Box 19
Erith
Kent
DA8 1LH
Phone 01322 330830
Fax 01322 334904
To work out the frequency required, a little simple maths is required. Assuming you know the frequency the unit is currently set to transmit on, (if you don't, a scanner will give an approximation) and divide INTO this figure the currently fitted crystal frequency. This will give you the MULTIPLIER, quite often 12.
For example, if the transmitter is set for 169MHz at present and the crystal has 14.08333 stamped on it, then the multiplier is 12. (14.0833 X 12 = 168.9996, the Tx frequency)
For Example:- To convert it to transmit on 145.025, the input frequency of a repeater on 145.625Mhz, divide 145.025 by 12 to get the crystal frequency, order a crystal on 12.0854. It's that simple. To ensure the correct type of crystal is supplied, we suggest unsoldering, and sending the old one with the order, that's what we always do.
For some very good transmitter kits and other interesting things:-
Ramsey Electronics
Their FHT1 "foxhunt" transmitter, for US$89.95 had definite possibilities and it is microprocessor controlled with variable time delays etc. It represented excellent value and should have done the job well with only minimal modifications. Sadly no longer available from the manufacturers, although you may find one if you search.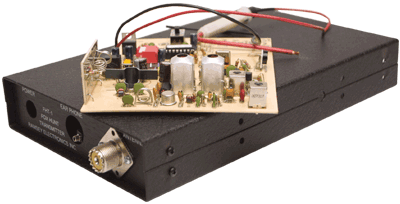 PDF HERE
Download our simple resistor colour code program Resistor Colour Codes

Here is a website for the hobbyists, like the majority of LPWS members, there are interesting projects and loads of modifications for existing kits. OK, not all radio related, but some interesting things just the same. Look in the TECHNOLOGY section.

Found on Instructables, we have just made one of these TV-B-Gone devices a mere US$19.95 kit.

Great fun when such places as Comet and Currys, also in department stores, be careful in pubs though if there are any morons watching football! Plunges John Lewis and Selfridges into silence!

A good 25 metre range, sometimes up to 50 metres. The small EPROM contains a list of "off" codes for nearly all brands of TV, pressing the button starts it scrolling through the list with Samsung, Panasonic, Sony & LG coming at the begining. Another press starts the sequence again, the whole list takes about a minute to finish.

(A side effect of this device is that it will turn on any set that is already off though.)

2 long range IR diodes and 2 wide dispersal diodes, can be modified to take a matrix of 24!
A good source of circuits for hobbyists can be found HERE